2014 Winning Startup at SF MusicTech Summit!
Published on November 25 2014
Jamendo is thrilled to be among the winners of the 2014 SF MusicTech Innovative Startup Challenge!
We would like to thank the organizing committee of SF MusicTech Summit for giving us the opportunity to talk about the current developments and the future of our company!
Listen to our General Manager's speech about Jamendo during the conference in San Francisco (from 1:15:25 to the end)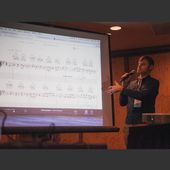 SF MusicTech Startup Showcase Winners by sfmusictech
SF MusicTech Summit XVI on November 11, 2014 Hotel Kabuki, San Francisco, CA www.sfmusictech.com TITLE: SF MusicTech Startup Showcase Winners HOSTED BY: Patti Silverman, SF MusicTech Summit David ...
https://soundcloud.com/sfmusictech/sf-musictech-startup-showcase-winners